31st May / 1st June 2023
We are thrilled to announce that Suffolk New College will be a part of the highly anticipated Suffolk Show this year!
Get ready to experience a showcase of our exceptional talent and wide range of educational programs. Join us in celebrating the incredible achievements of our students at this prestigious event.
Recap of last year:
Where to find us
🏆 Skills Zone 🏆 Stand 2-14
Visit our Skills Zone and explore a world of creativity and expertise! We will be showcasing some of our fantastic programs, including Hair & Beauty, Childcare, Creative Arts, Health & Science, Public Services, Carpentry, and Automotive. Prepare to be amazed by the skills and dedication of our talented students as they demonstrate their abilities in these diverse fields.
🌳 Farm Discovery Zone 🌳 Stand 914
Step into the Farm Discovery Zone and discover the wonders of agriculture and animal care. Suffolk New College will be proudly presenting programs such as Agriculture, Arboriculture, Floristry, and Animal Care. Immerse yourself in the beauty of nature and witness the expertise of our students as they showcase their knowledge and passion for these industries.
⚽ Sports Village ⚽ Stand 211
Calling all sports enthusiasts! Join us in the Sports Village, where our exceptional sport team will be showcasing their prowess and dedication.
🍳 Culinary Delights 🍳 Stand 760 & Food Hall
Prepare your taste buds for a treat! Our Suffolk Centre for Culinary Arts students will be taking stage in the main cookery theatre and the VENI tent. Get ready to indulge in mouthwatering flavors and innovative culinary creations as our talented students dazzle you with their culinary expertise. Don't miss the chance to experience their live demos and pick up some insider tips from the masters of the kitchen.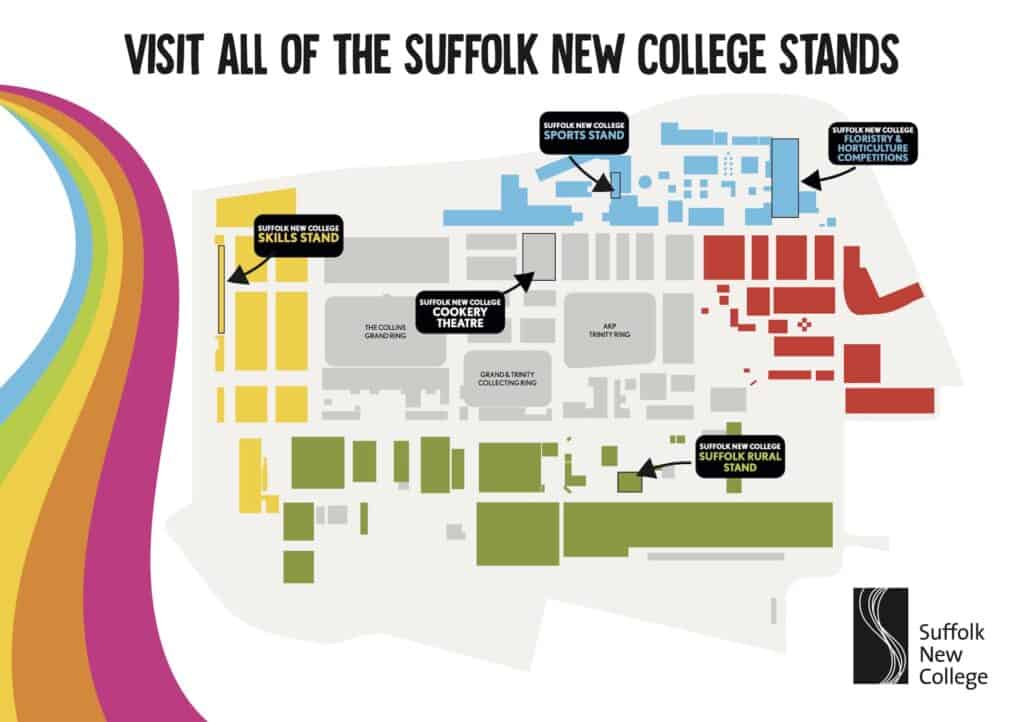 🐵 Mascot Race President's Ring, 3pm on Wednesday
Our very own 'Fast & Furious George' will be competing in the mascot race!
The Suffolk Show is an exceptional platform for our students to showcase their skills, dedication, and achievements. We are immensely proud of their hard work and passion, and we invite you to join us in celebrating their success at this incredible event.
For more information about the show visit suffolkshow.co.uk