Two female construction students from Ipswich are determined to get the message out to others that construction careers are for everyone.
The learners – Eve Parker and Grace Harley – are both studying apprenticeships at Suffolk Rural College near Ipswich.
They are keen to use their experiences to encourage more females to enter this traditionally male-dominated industry.
They have launched their rallying call ahead of International Women's Day which will be taking place on 8 March 2023 – a campaign that aims to 'imagine a gender equal world free of bias, stereotypes and discrimination'.
Eve, 16, from Ipswich, currently works for Barnes Construction and is studying on a level two apprenticeship in painting and decorating.
Eve said: "We've got a female painting and decorating tutor and that was inspiring. At school, I was pushed towards sixth form, but I wanted to do something more practical. I'm keen to share my experiences with others.
"It's inspirational that women are taking more of a different direction to traditional stereotypes and it's great to raise these issues during International Women's Day. We want to try and make sure others aren't afraid to consider construction as a career."
Mark Hart, joint managing director of Barnes Construction said: "It's great to see that more young women like Eve are considering a career in construction and we are pleased that she has decided to join our business as a trade apprentice. There are many career pathways through apprenticeships and management positions for female candidates and this remains a key objective for Barnes Construction and our industry, and something we will continue to promote through our various management trainee and apprenticeship schemes."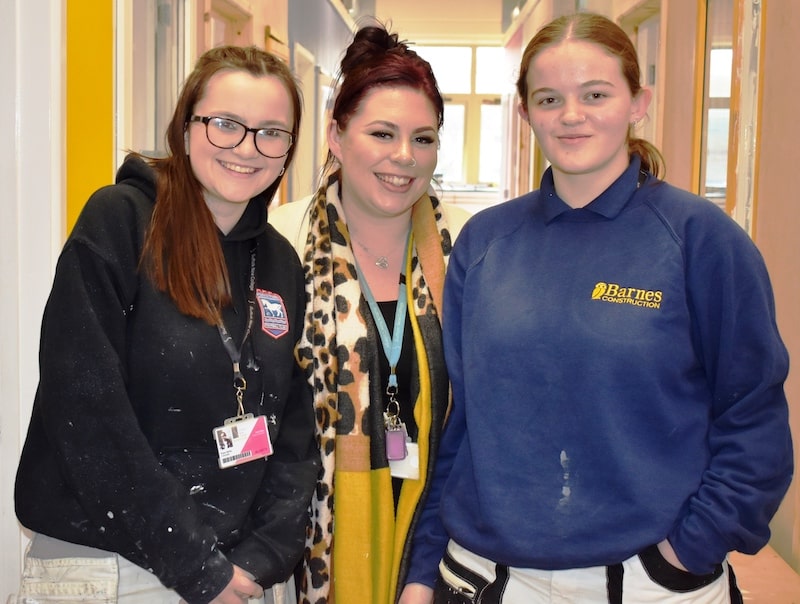 Grace Harley, 16, from Ipswich works for Ipswich Town Football Club (ITFC) alongside her level two painting and decorating apprenticeship. Grace said: "As an ITFC fan, I never thought I'd have an apprenticeship at the club. It fills me with a lot of confidence and I'm grateful to the people who have got me here, in particular Steve, Richard and Martin – it's a great place to work and the club makes you feel part of one big team.
"I've met a few players and I've spoken to the manager – he said thank you for everything you do for the club – it was nice to get that recognition."
In terms of advice to others about getting into construction, Grace said; "My advice would be to say – don't follow the crowd and be yourself and take a leap. I think all industries need to be more open-minded and get the message out to children at a younger age that you can do anything. I'd be happy to try and be a role model and go into primary schools to encourage more girls to consider careers in construction."
HR Manager of Ipswich Town, Martin Gwillim said: "Grace is a prime example of an apprentice taking their opportunity with both hands and grasping it. We're very lucky to have women in key areas at Ipswich Town both on and off the pitch, Grace is one of many success stories."
A lecturer at Suffolk New College, Gemma Parish, said: "As a college, we have made good progress in terms of encouraging more people and females into construction, but as an industry, we can always do more. Construction is recognised as a male dominant industry but also provides fantastic opportunities for females. Never in a million years did I imagine myself teaching the subject. I think it is important, as a role model in the industry, to encourage females into construction and showcase examples of women that have been working in the industry and have made successful careers.
"Grace and Eve are great role models and their idea of promoting construction to primary schools is something that we are keen to support. They came straight from school and now they are working for some hugely recognised businesses (ITFC and Barnes Construction) I would urge anyone who is keen to come to us to learn the skills they need to progress into employment, just like Grace and Eve did."