A woman from Suffolk overcame a serious injury to come third in Britain's Strongest Woman.
Andrea Thompson, 40, from Melton, travelled to the Doncaster Dome at the end of September in an event that was organised by Giants Live.
Andrea – an apprenticeship assessor at Suffolk New College in Ipswich – was up against 13 other contestants during an occasion that was live-streamed across the internet.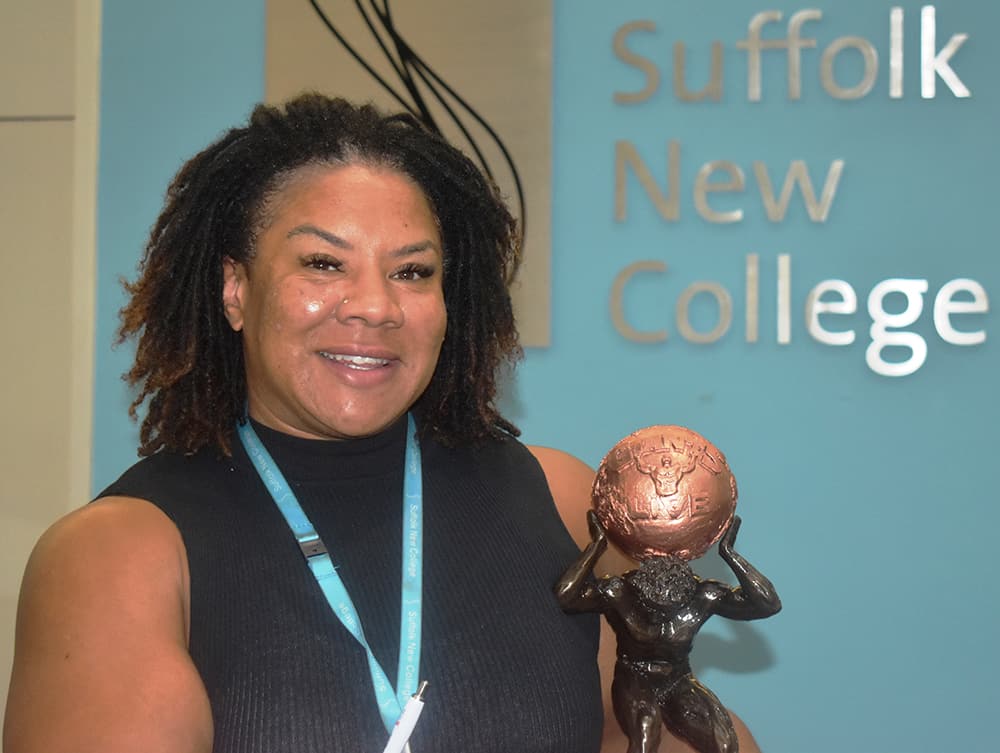 A sell-out crowd of around 2000 spectators saw Andrea go toe to toe with the strongest women on these isles to make the podium.
But it was touch and go as to whether Andrea would even compete at the British champs after sustaining a serious injury at the Suffolk Show.
Andrea – a mum of two – explains: "I saw someone trying to flip a tyre at the Suffolk Show and said to my daughter that I could do better than them – I was showing off a little bit. Then when I tried to pick the tyre up, I heard a tremendous noise and realised something was wrong. It transpired that I had torn a bicep and had to have an operation within a week.
"I was told that I wasn't going to be able to compete again this year by my coach. But I was determined to prove them wrong. So, I kept training hard and trusted in myself and my body.
"I managed to make the event in Doncaster and it was amazing. The women's event sold more tickets than the men and this shows how far the sport has come. (When I first started out we used to compete in front of friends and family). We had interviews, fireworks, presenters, headshots, our own dressing room, and clothing with our names on and the organisers are currently in talks with Channel 5 and others to show the competition on TV over Christmas.
"Ultimately I was happy to come third. I always go into a competition thinking I'm going to win. But after my injury problems, I set a target of finishing fourth. When I realised where I'd come, I got quite emotional."
Andrea – who turns 41 next week – is now getting ready to take part in the 'World's Strongest Nation' event in Liverpool where top-performing athletes from the UK and USA will compete against each other to see which country comes out on top.
After that, Andrea has her eyes firmly on the World's Strongest Woman competition that will take place in West Virginia this December and will then be hoping to meet her idol Arnold Schwarzenegger again at the Arnold Sports Festival that will be held in Ohio in March 2024.
On her idol Arnie, Andrea added, "I've met him a few times. I never get starstruck normally, but with Arnie it's different. I get flustered when I see him. He is just so iconic."
Head of marketing at Suffolk New College Craig Shimmon said: "Andrea's achievements really inspire everyone at the college.
"To come third in Britain's Strongest Woman after her injury is fantastic. Fingers crossed she can do what she did in 2018 by reclaiming the World's Strongest Woman title later in the year."
(This year, Andrea will be competing in the Masters category (in the World's Strongest Woman) which is for competitors over the age of 40. If successful she will win the title and $5000.00).
Andrea is looking for sponsorship to support her travel to these competitions and is happy to promote any businesses that are willing to back her. If this is of interest, you can contact Andrea via her Instagram account: @andreathompson_strongwoman