One of the most decorated Invictus Games athletes in history came along to Suffolk New College to inspire the next generation of public service workers.
Nerys Pearce won ten medals during the 2016 Orlando Invictus Games in various sports including basketball, powerlifting and indoor rowing.
She has also swam the channel and competed in the Commonwealth Games.
Nerys – a former combat paramedic who was paralysed from the waist down after a motorbike accident in 2008 – visited the College as part of a project that was set up by The Drive Project and BLESMA, a charity that supports limbless veterans for life.
The programme – called Making Generation R – aims to teach young people life skills and resilience.
To do this speakers who have overcome adversity visit educational establishments to share their stories.
During her Ipswich visit, Nerys was joined by Simon Bell and Charmaine Healy.
(Simon found faith through religion after losing an arm in a car crash and Charmaine Healy has achieved personal and sporting success after receiving life-changing injuries whilst working in Afghanistan. Charmaine received two medals at the Toronto Invictus Games in 2018).
Nerys said; "The Drive Project uses storytelling to empower people to tell stories.
"They (The Drive Project) joined forces with BLESMA to create a campaign that talks to audiences about resilience and gives advice to others about creating coping strategies in difficult moments. It was a pleasure to work with Suffolk New College."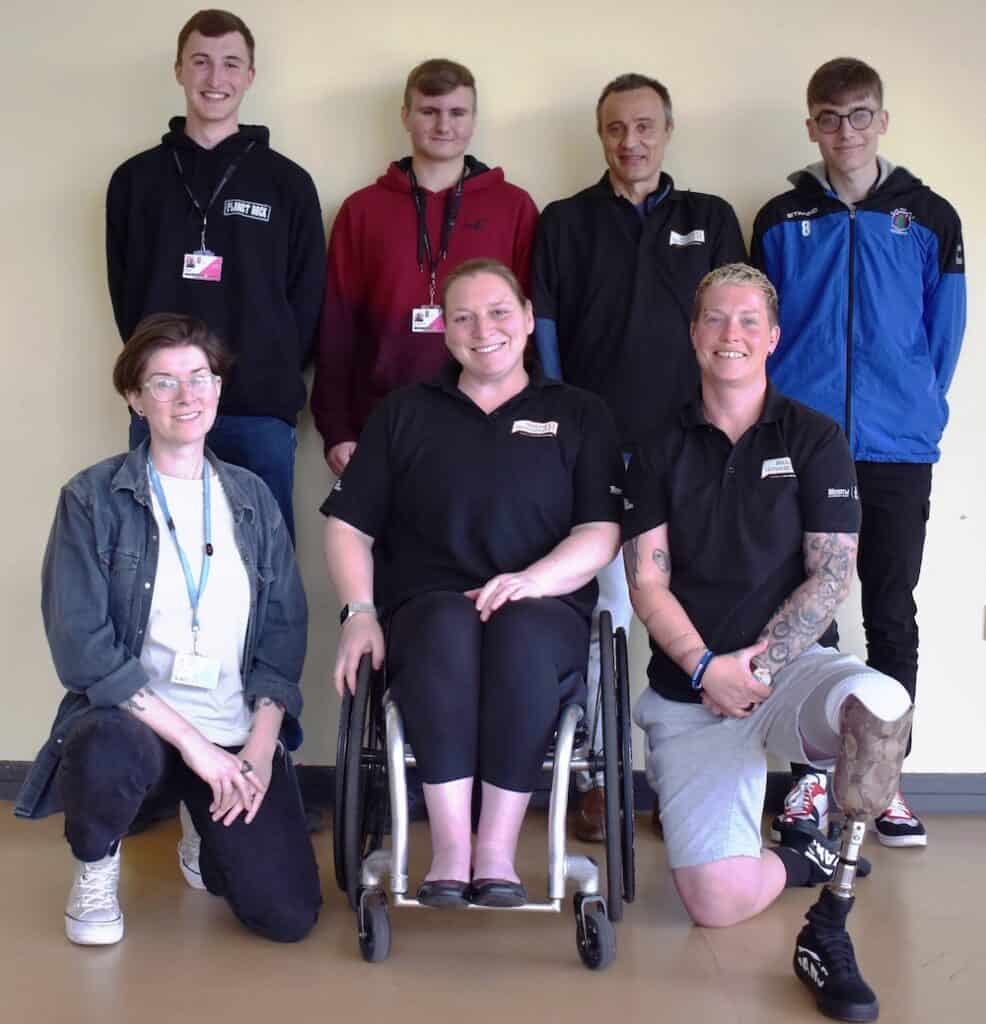 Three Public Services students – Owen Woollard, Miles Bacon and Joshua Haden-Scott – organised the event as part of their final year social action project, a college-wide campaign to positively contribute to our community. They have spent the last eight weeks collaborating with BLESMA to deliver the talk, which was received brilliantly by their cohortSpeaking on behalf of the organisers, student Miles Bacon said: "This is a subject close to our hearts. Personally, I'm joining the services and it was interesting to hear these stories. They were inspirational."
Progress Tutor for Public Services at Suffolk New College reflected in the event. She said: "We are grateful to our speakers. Their powerful stories gave everyone food for thought that helped demonstrate the power of the human spirit. The advice our guests gave will help equip our learners for life's challenges and a career in the armed of public services."
The Making Generation R programme will be finishing this year and whilst their workshops and talks are fully booked, their free digital Resilience Resource offers a useful alternative and is available to all secondary educational settings until August 2023.
Accessed online, the Resilience Resource is suitable for ages 11 to 18 and contains an introductory video, a powerful story of resilience and a series of exercises. You can use this as a lesson plan, adapt the exercises for your students or simply send them the link to explore themselves. If you are an educational setting interested in receiving a resource email info@makinggenerationr.com