Suffolk New College in Ipswich opened a new Net Zero Skills Centre this week.
The facility benefitted from £940,000 worth of funding from the Ipswich Town Deal funded by HM Government.
It will offer new generations the chance to gain the skills they need to work in careers related to green skills.
New facilities at the Net Zero Skills Centre include air and ground source heat pumps, solar panel maintenance and installation equipment, a water harvesting area, a hybrid and electric vehicle studio and an electric boiler room.
The College has also teamed up with Morgan Sindall and a host of other companies to create a sustainable construction area, with examples of construction materials, which improve building sustainability for learners to study.
Alister Broadberry, Area Director for Morgan Sindall Construction in the Eastern Counties, said, "Sustainable construction skills are a vital and much in demand part of today's building sector, as they are essential to tackling the challenging green targets we need to meet as an industry and as a society.
"This is why we're excited to be working with Suffolk New College on their Net Zero Skills Centre, as its comprehensive sustainable construction training will help embed advanced environmental awareness, knowledge and capabilities into tomorrow's built environment workforce. Being an industry partner of Suffolk New College is a great way to provide students with an insight into the industry and how the skills they are learning align with Morgan Sindall's Intelligent Solutions approach and commitment to net zero carbon."
This and other bespoke equipment will support training for students and businesses.
The grand opening event began in Chefs' Whites restaurant where Principal and Chief Executive, Alan Pease, welcomed around 100 guests to the proceedings, including the Mayor of Ipswich, Councillor John Cook.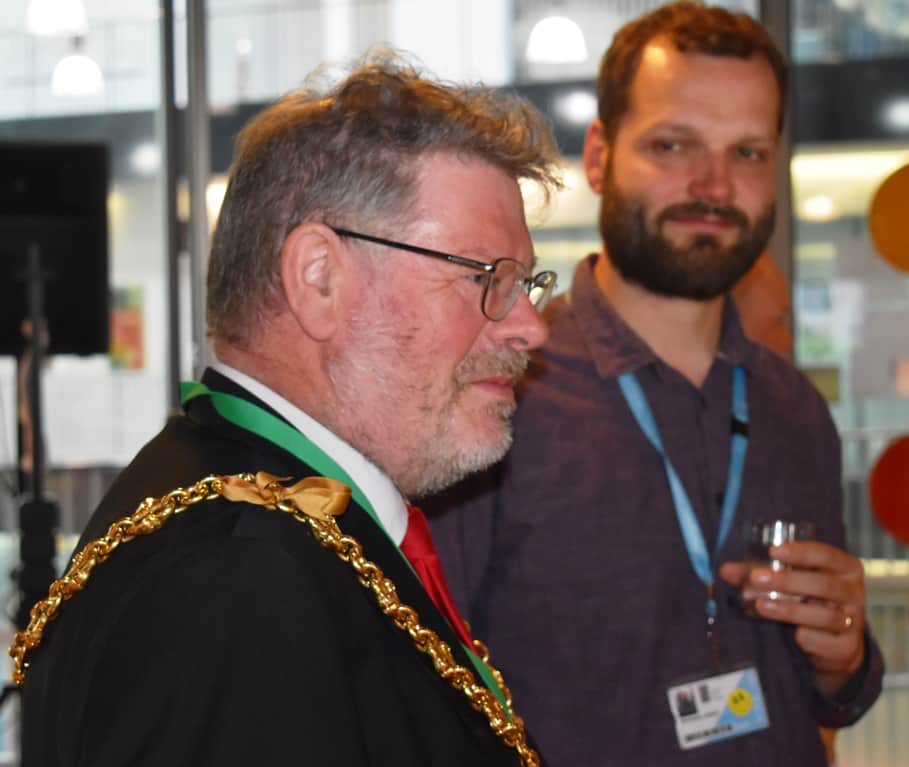 During the event, Mr Pease said, "We are passionate about ensuring that all our learners understand the need for sustainability and are made aware of the many job opportunities available in the green skills sector.
"Green skills is one of the biggest growth areas in terms of jobs (and well paid jobs) so it's really important for colleges to be providing courses and facilities that are related to sustainability.
"We are at the start of a very exciting journey to deliver an outstanding curriculum in this fantastic new resource. We are working with key employers to find out what skills and training are needed and building our offer from there."
The opening of the new centre builds on a collaborative project that has seen colleges in Norfolk and Suffolk join forces to embed sustainability across their curriculums, culminating in a New Anglia Green Skills summit held in Ipswich earlier in the year.
In addition, part of the Green Skills project funded a two-day sustainability festival for students. Both these events were supported by the New Anglia Green Skills project, which was funded by the Strategic Development Fund from the Department for Education. The Green Skills project also funded key equipment in the Net Zero Skills Centre, including hybrid and electric vehicles.
After Mr Pease spoke, the Sizewell C Engineering Civils Programme Director – Dr Sarah Williamson – who was listed as the fifth most important woman in engineering based in Europe and the UK in 2019 – gave a keynote address. Sarah said, "I'm so proud and enthused to be part of this (launch). The centre is so important. It's making a commitment to support young people and make their lives better."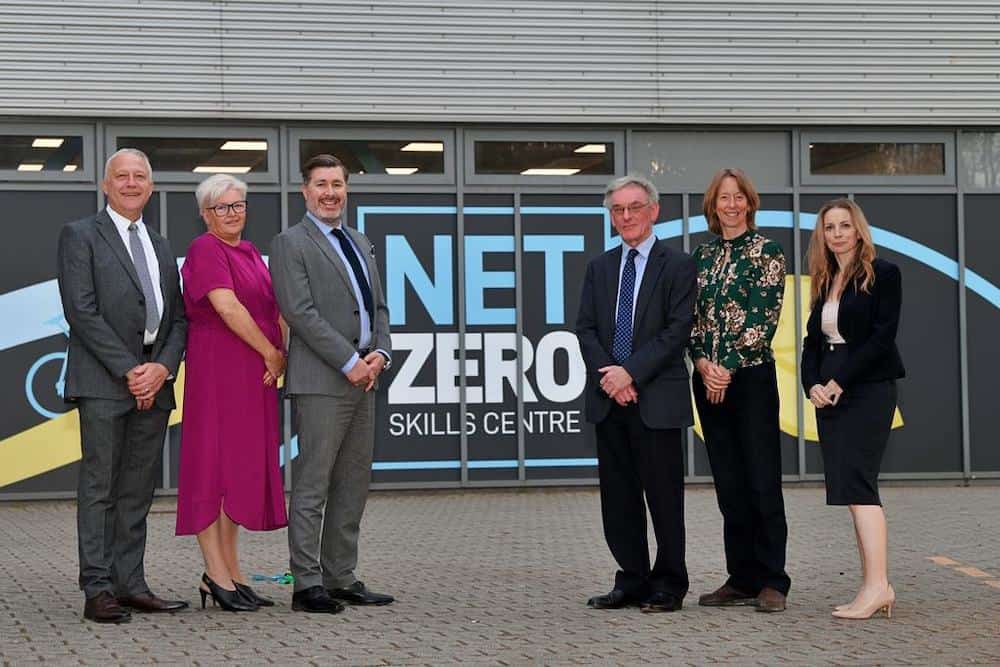 Cleo Thompson, 19, from Ipswich is currently studying on a level two fabrication and welding course at Suffolk New College. Cleo said, "The environment is important to me and future generations. At some point soon, every job will have an element of green skills so this centre is very important.
The MP for Ipswich, Tom Hunt is looking forward to visiting the centre soon. He said, "I am delighted at Suffolk New College's launch of their Net Zero Skills Centre. This fantastic site was made possible by £940,000 worth of funding from the £25 million Government funded Ipswich Town Deal Fund.
"This impressive centre will equip new generations with skills they need to work in skill-based careers and is key to creating opportunities in Ipswich for young people to succeed. The centre will cover sustainable technology, from hybrid and EV vehicle maintenance to solar panel installation and new approaches to building insulation.
"Sustainable construction training is crucial to creating a green future we can be proud of, where we can meet the challenging but necessary targets we have set as a society. The amazing facilities will benefit Ipswich greatly for generations to come."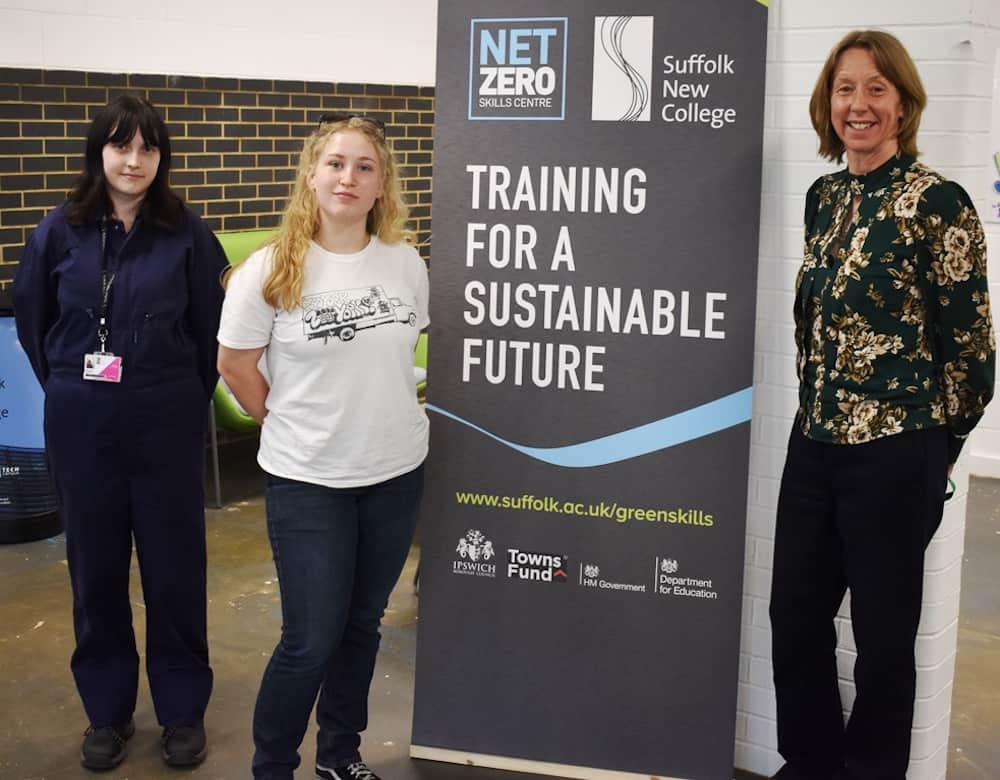 David Ralph, Chair of Ipswich Vision and the Town Deal board says, "We're delighted to have been able to support Suffolk New College in the creation of their new Net Zero Skills Centre through the Towns Fund. Delivering net zero is likely to be front and centre of our vision for the town and it's fantastic to see our College championing sustainability in Ipswich to ensure the next generation of learners are equipped with the skills needed to work in an ever developing and sustainable world."