'This is the world we live in so we've got to look after it.'
Suffolk New College hosted a two-day sustainability festival for students this week. The occasion gave every learner at the Ipswich and Suffolk Rural campuses of the College the opportunity of learning about green skills and the environment.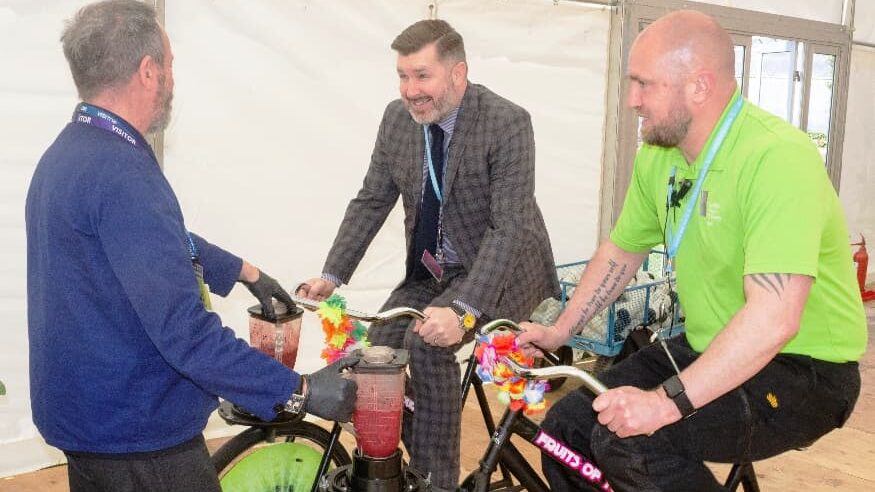 Alan Pease – Acting Principal – Peddling for a smoothie
The event is part of a New Anglia Green Skills project that has been funded by the Strategic Development Fund from the Department for Education. The project has seen major investment in new green facilities, staff training and green curriculum across the College, working in partnership with other Colleges in the region. During this occasion, a host of local businesses came in to talk to learners about subjects that ranged from fashion to foraging.
"The idea is for all of our students to leave here with some understanding of sustainability and how they can support the environment," said events co-ordinator of the College, Charlotte Rossiter.
Charlotte Rossiter – Organiser
Sarah Osbourne is the visitor centre co-ordinator at EDF. Sarah said: "Events like this are important as they help students get the link between their course, their future career and how sustainability fits into all of that."
Sarah Osbourne – EDF
Paul Bird works for a company called Mad Science who had teamed up with Anglian Water. "Students were really interested and engaged. This event gets them to think outside of their normal domain and bring the environment to the fore of their thoughts."
Paul Bird – Mad Science
Chris and Marian Stephens came along representing the Ipswich and East Suffolk Beekeepers Association. Marian said: "Days like today can help get the message out – particularly to young people – as they are the future of this world."
Chris Stephens – Motor Vehicle Students – Marian Stephens
Mel Evans is from the Forage Kitchen in Bury St Edmunds. Mel said: "We came along to try and spark an interest in foraging and the environment. The students have been fantastic."
Mel Evans – Forage Kitchen
Student, James Elwood, 19, is on a mechanics course at Suffolk Rural. James said: "It's important to push sustainability to the younger generation." Student, Tyra Parker, 17, from Woodbridge said: "This is the world we live in so we've got to look after it."
Tyra Parker – Animal Studies Student
Hayfar Azeez, 16 from Ipswich is on an engineering course at Suffolk New College. Hayfar said: "Without the environment we wouldn't be alive so we need to look after it."
Hayfar Azeez, Yousif Alakraa, and Robert Cirlblan
Teacher, Paul Peachey is a construction lecturer at Suffolk Rural. Paul said: "It was great to give the students information on how we can save the planet and how they can contribute to this by working in the sustainable sector."
Paul Peachey – Teacher at Suffolk Rural